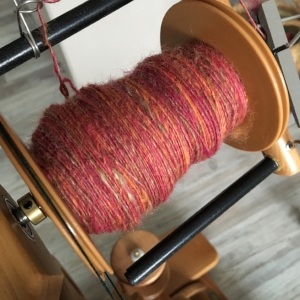 Drop Spindle, Wheel, Niddy Noddy, Stylus, Skeiner, Navajo Ply, Z-twist, Whirl... This is just a little sampling of a spinners language. Spinning is both relaxing and rewarding and we'd love to help you get started, or help you learn something new in this wonderful world of Spinning. We offer private & small group classes on both drop spindles and wheels.
Wheels-Majacraft
We are happy to carry Majacraft spinning wheels and accessories. After extensive research we've found them to the be well made, no oil can required and beautiful!
Majacraft makes innovative spinning wheels, looms and fiber tools. They aim to build tools that are easy for beginners to use and place no limitations on the creativity of skillful spinners and fiber artists. Majacraft is a small, family owned company based in the North Island of New Zealand.
Suzie Pro
The Suzie Professional model has a green MDF wheel and whorl. This wheel is heavier and slightly larger than the rimu veneer drive wheel of the Suzie. It gives smoother spinning with greater inertia and is a favorite of many spinners. Some of the features of the Suzie Professional are:
- Double heel and toe treadling
- Comes with four (4) bobbins
- Friction-less ball bearings
- Single hook flyer
- Folds up for transport
- Maintenance-free drive band
- Super smooth patented bobbins
- Lightweight
- No threading hook required
- Right or left handed
- Five main ratios available on each whorl
- Accessories available are high speed whorl and low speed whorls to extend the spinning range from 3.25:1 to 20:1 as well as baby bobbins, lace bobbins and huge plying bobbins
Rose
The Rose is a classic wheel for every spinner. With its spoked wheel and engraved rose motif, it is elegant with a traditional feel. It is super-easy to use and yet still has the ability to carry out any spinning technique you can imagine.
- includes the Rose Carrier which can be used as a 3-bobbin lazy kate. The carrier has rubber feet, a convenient carry handle, whorl holding pin and a magnet to store the whorl allen key
- has a normal and fast whorl, two flyers with delta and fine fibre orifice
- has Majacraft stainless steel hinges
- ratios extend from 4.25 to 19.5 using the whorls supplied
- Comes with four (4) bobbins
- the handle folds to allow easy handling
- the handle and head position are adjustable so you can achieve the most comfortable spinning position
- suits both left and right handed spinners
- has handle stops to control the range of movement of the handle
- JCB bolts used in most structural connections for smoother, cleaner lines
- the Rose uses the dependable scotch tension for smooth and easy spinning.
Little Gem
Our Little Gem is a folding wheel designed for using while travelling. It is especially useful for those who need to transport their spinning wheel but has the capability and smoothness to cater for all types of spinning. The Little Gem comes with three bobbins and a custom made shoulder bag in Majacraft green. We also include a travelling kate so plying is a breeze while you are out and about.
While the Little Gem is both compact and light (approximately 5kg/12lbs - this can vary with the wood), it easily handles tasks of spinning and plying the likes of wool, mohair, silk and so on. The Little Gem is a full height wheel with attractive and unique design.
Some of the features of the Little Gem are:
- double treadle
- Comes with three (3) bobbins
- quick change flyer
- no oiling sealed bearings
- sliding flyer hook
- sensitive scotch tension NZ rimu construction
- laminated bamboo drive while that has plenty of inertia and looks great
- compact and light
- extremely portable
- spins like a full-sized wheel with an easy rolling treadle action
- compatible bobbins and flyers with Majacraft wheels and accessories